For the past ten years social determinants of Health (SDoH) have gained greater importance from health care organizations and legislators, and the numbers back it up: the Kaiser Family Foundation noted in a recent meta-analysis of almost fifty studies that social factors accounted for over a third of deaths in a year. Even when it isn't life or death, the New England Journal of Medicine estimates that SDoH influence 80 to 90 percent of patient outcomes.
The role of social determinants cannot be understated, and it is therefore essential that every player in the healthcare space—payers included—step in to enable effective, holistic, and comprehensive healthcare to successfully advance value-based payments.
In 2019, CMS expanded Medicare Advantage coverage, which offered chronically ill patients with Medicare Advantage a broad range of supplemental benefits that help to combat social determinants of health challenges. Services like transportation, home environment services, and education programs are vital in maintaining overall health despite not being clinical in nature.
As a result, many states are contracting with social determinants of health in mind. Currently, thirty-five states require MCOs to perform some form of screening and provide enrollment in SDoH-related services, ranging from identifying homelessness, coordinating with community resources to battle food insecurity, assisting members find employment, to healthy behavior incentive programs.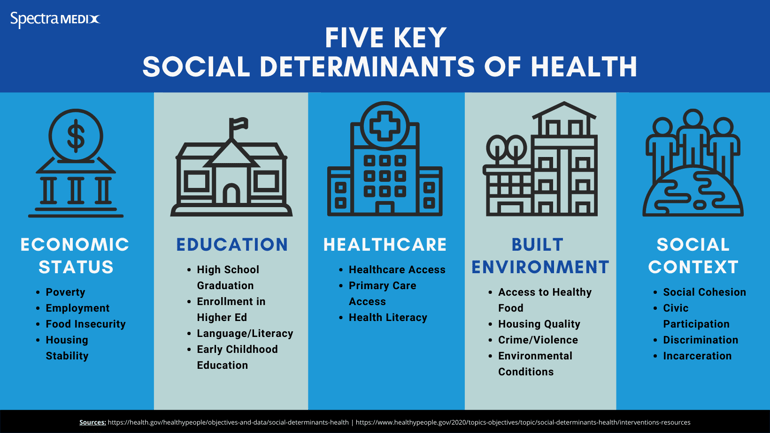 Collecting non-clinical patient data can be a monumental task, but there are several information sources payers can tap into as they develop programs for SDoH or establish relationships with community-based organizations (CBOs):
One way of collecting information is through surveys. Through your provider network you can be given context to the lives of your members and connect them with services that can help them meet their non-clinical needs. However, while most health systems screen patients for SDoH, only 62% report screening target populations systematically and consistently, which may allow some members to slip through the cracks.
To supplement surveys, it's vital to use technological options that utilize standard codes (Z-Codes) from billing, claims, or EMRs; leverage public geographical data regarding distribution of social factors based on census data and zip codes; and third-party algorithms designed to extract data from unstructured data sources.
CMS is leading the charge to create arrangements that incorporate SDoH into the contracting process. Over time they will evolve, but even today there is significant opportunity in modeling value-based payment contracts that incorporate SDoH. Additionally, this can identify providers that will be successful in delivering improved outcomes—in cost, quality, and member satisfaction. By modeling we have decreased the likelihood of placing the provider in a situation where they're unlikely to win based on past performance.
I have seen the positive impact realized from SDoH and behavioral health initiatives. I have seen diabetic patients connected with Community-Based Organizations (CBOs) where, through technology and process, food insecurity issues were identified and addressed. I have seen successful CBO referral programs that provided transportation services to at risk and high utilizer populations. I have seen tremendous results from emergency medical services (EMS) data analysis that facilitated drug rehabilitation referrals. There are a few very exciting outcomes from these and other efforts. First and foremost, vulnerable patient populations were better served. Next, these efforts provided higher quality care at a lower cost and burden to the healthcare system. Finally, these efforts demonstrated the agility of technology, as it can be fine-tuned to address the specific needs of any payer's member population.
Social determinants are a key factor in improving healthcare quality. Without addressing them you may see your value-based payment arrangements falling short, but with the right tools and network, success is around the corner.
I welcome discussion on this topic, so please feel free to reach out to me directly at my email address: raj.lakhanpal@spectramedix.com.